Meriç graduated in reading at the age of 4 and completed his primary and secondary education at Reyhanlı High School, where he was also taught Arabic, French, Quran, Tecvid and morality. In a statement about his high school days, Meriç said: "My life up to the age of 8 is hazy, headless, a pile of endless memories. My father is an officer with a frown, who speaks little, and whose actions I can 'I don't understand. My mother is sick, we are a bland whining woman. Then an uncle who appears and disappears like a dream, two older sisters and books." expressed in his words.The immigration psychology in his family, the political, cultural and social structure of Hatay, where he was born and lived until his childhood, influenced Meriç's personality.Theologian-author Prof. Dr. Emin Işık also stated in a statement that Meriç was born into a family based in the Balkans on the one hand and the Caucasus on the other, and that he spent his childhood in Hatay, which was under French occupation.
FIRST ARTICLE OPENED IN THE LOCAL NEWSPAPER IN 1933
Cemil Meriç discovered divan literature under the direction of Ali İlmi Fani while taking private lessons from French and Turkish high school teachers whom he called "my university".
Meriç, whose first article titled "A Late Accounting" was published in the local newspaper Yenigün in 1933, was transferred in 1936 to Istanbul's Pertevniyal High School, where Nurullah Ataç and Reşat Ekrem Koçu taught. While Meriç had to drop out of high school in the 12th grade because he criticized some of his teachers in an article, in the same year he met Nazım Hikmet and Kerim Sadi. After working as a teacher for 9 months in the Haymaseki village of Iskenderun, where he went in 1937 due to financial difficulties, the writer later became deputy head of the Iskenderun translation bureau, where he entered with an exam.
PUBLISHED THE TRANSLATION OF BALZAC'S "GOLDEN EYED GIRLS" IN 1943
Cemil Meriç worked in various temporary jobs in 1938, and in 1939 he was arrested and taken to Antakya for the alleged overthrow of Hatay's government. Meriç, who was on trial for the death penalty, was acquitted about 3 months later. Hatay joined Turkey on June 29 of the same year. The writer, who started the Philosophy Department of the Faculty of Arts of Istanbul University in 1940, was unable to finish school because he went to libraries instead of university. Meriç's articles have been published since 1941 in the magazines Insan, Yücel, Gün, Ayın Bibliografyası. Mahmut Ali, the master writer's son, who married Fevziye Menteşeoğlu in 1942, and his daughter Ümit were born. Cemil Meriç, whose first translated book, Balzac's novel "The Girl with the Golden Eyes", was published in 1943, graduated from Istanbul University School of Foreign Languages, French Philology Department in 1944, where he was accepted with a scholarship. A master of literature, he taught at Elazig High School and Istanbul Işık High School in 1944-1974, and taught French at Istanbul University.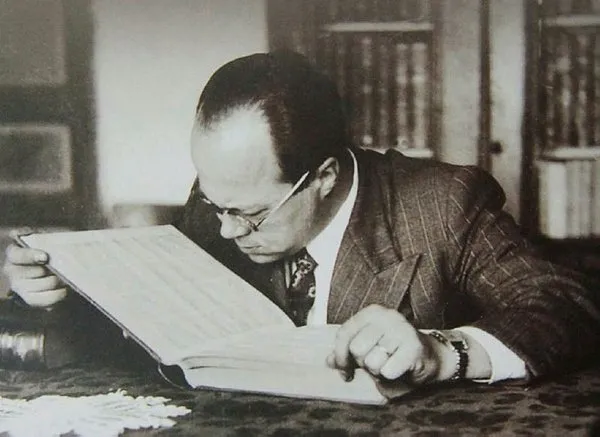 Meriç's eyesight weakened in 1954 and he lost his sight completely in 1955 after unsuccessful eye surgery. Meriç orally translated the French and English texts he had read to his assistants, prepared the unpublished French grammar and continued to write articles on dictation.
THE FIRST COPYRIGHT BOOK "INDIAN LITERATURE" WAS PUBLISHED IN 1964
Meriç's first copyrighted book, "Indian Literature", which aimed to destroy prejudice against Eastern civilizations and emerged at the end of a 4-year study, was published in 1964 and the work was later republished twice under the title "On the Verge of a World". Meriç's "Saint Simon-The First Sociologist, The First Socialist", which aims to illuminate an important aspect of Western thought, was published in 1967, while its articles and translations were published in various journals in 1965-1973. The master of literature wrote essays entitled "From the ivory tower" in the magazine Hisar. "On these pages I have my whole life, that is, all my loves, all my resentments, all my experiences. It seems to me that I came to the interview called life to write this book; the flesh of my flesh, the bone of my bone." In 1974 he published the book "This Country", which he called "This Country". In the same year, he introduced the book "From Umran to Civilization", in which he discussed the concept of civilization. Cemil Meriç discussed recent history in his work entitled "The Story of a Disaster", which was partly compiled and partly copyrighted in 1981. He wrote articles for the "Republican Era Turkey Encyclopedia", published by İletişim Publishing in 1983 .
THE LAST WORK PRINTED IN HEALTH WAS "LIGHT COMES FROM THE EAST" AND "FROM CULTURE TO LIFESTYLE"
The last works of Meriç, who lost his wife Fevziye Hanım in 1983 and suffered a brain haemorrhage the same year and became paralyzed on his left side, were "Light Comes from the East" and "From Culture to Knowledge". Cemil Meriç died on June 13, 1987, at the age of 71, and was buried next to his wife in Karacaahmet Cemetery.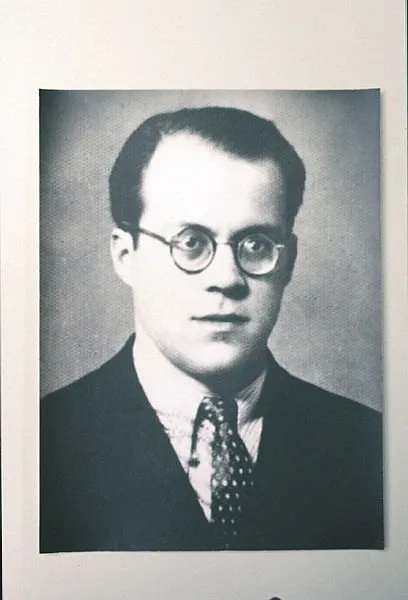 Writer Alev Alatlı said the following in her speech while receiving the Presidential Culture and Arts Grand Award:
"Cemil Meriç's opposition to established ideas, approaches and tendencies is an opposition that will set an example for humanity, not only for the people of Turkey, but also for the humanity that has taken over the great machine. This is why Meriç's universality, which we appreciate so much. He is one of the few honorable men who can afford to be a stepchild. Besides, this is not fate, but a deliberate choice." Meriç's translations and articles, attracting attention with his unique style and pure Turkish, have been published in nearly 40 magazines, including Human, Purpose, 19th Century, Gün, Yeni Insan, Hisar, Movement, Twentieth Century, Turkish Literature, Kubbealtı Academy, Köprü and Gerçek He met readers in Yeni Devir and newspapers and encyclopedias in the Middle East While Cemil Meriç received the Turkish National Culture Foundation Award with his book "From Hope to Civilization" in 1974 and with his book "Forty Ambar" in 1980 , he shared the Distinguished Service Award of the Writers Union of Turkey with Mehmet Kaplan and Emin Bilgiç in 1981.
Meriç's house in the Reyhanlı neighborhood of Hatay was converted into a museum in 2014. Author Meriç was deemed worthy of the Culture and Art Grand Award presented by the Presidency in 2015. Meriç's daughter Prof. Dr. It was donated to the Presidential Library by Ümit Meriç.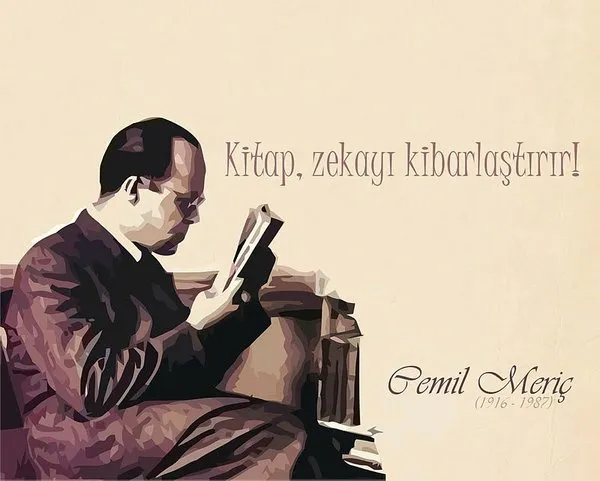 HE GOED ALL BOOKS EXCEPT TRANSLATIONS AFTER LOSING HIS EYES
In his book "Jurnal", Cemil Meriç, who describes himself as "a reclusive and devoted intellectual worker who devotes his life to Turkish wisdom", wrote articles in many fields of the social sciences, especially language, history, literature, philosophy and sociology.
Cemil Meriç wrote all his books except translations after going blind with the support of his wife, students and children.
Cemil Meriç recognized Muallim Naci, Süleyman Nazif, Refik Halid and Peyami Safa as great thinkers and writers with a style, saying that Süleyman Nazif was the person who most influenced his style and whom he considered a master of style. separating the author from his reader, making my voice heard for all factions. The voice of consciousness, history and science… I want to create such an expression that a flame will pierce like a spear the sleeping consciousness of the Turkish people." he said.
WORKS OF MERİÇ
"Knowing ourselves is the highest level of wisdom." Cemil Meriç, who has applied his word practically all his life, in the field of essay and analysis, "Indian Literature (On the Verge of a World)", "Saint Simon – The First Sociologist, The First Socialist", "Ideology" , "This Land", "From Hope to Civilization", "The One in the Cave", "Forty Warehouses", "Story of Disaster", "Light Comes from the East", "From Culture to Knowledge", "Jurnal I -II", "Sociology Notes and Lectures".
The author is also "The Novel of the Thirteen-Girl with Golden Eyes", "The Woman at Thirty", "The Novel of the Thirteen-Ferragus", "The Splendor and Misery of the Kind Prostitutes", "Hernani", " Marion de Lorme", "Ziya Gökalp/His Life and Works-Turkish He translated the works entitled "The Foundations of Nationalism", "Those Who Fall from the Bridge", "The Structure and Development of Languages ​​(with Berke Vardar)" and "The Islam-Islam Legacy That Fascinates the West".